This week in pastry, we worked on petit fours. Monday, I spent the majority of the day making macaroons. Everyone had trouble on the first try, but my second batch turned out well. Once they were baked, we matched up top and bottoms and sandwiched the matched with chocolate ganache and seedless raspberry jam. I also took some time to plate my macaroons. I was feeling playful and my plating reflected this.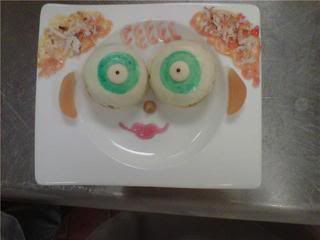 While I worked on that, my table mate worked on the cat's tongues, the cherry almond florentines, and the ganache for the truffles. Once the ganache was made, I piped it into mounds to freeze so we could roll them into balls for the truffles we were to finish on Tuesday. This is a picture of a cat's tongue: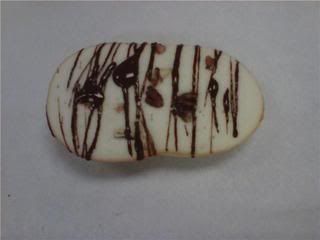 Tuesday, my table mate was not there, so I got to work alone. Chef CJ came to make sure I was fine with that. I didn't say it, but I was kind of excited to just work alone for once in a huge kitchen and to have so much space to myself. I love my table mate, and we work really well together, but it is nice to just have everything to yourself once in awhile.
I got my frozen ganache out to warm up a little and started making my madelines. We only had one pan for those and the batter had to rest for an hour before baking, so I knew that I needed to go ahead and get that out of the way. While that batter was resting, I cut and decorated the florentines that had been baked yesterday. Petit fours are judged based on uniformity of size and decoration. I am a little OCD, so I was extremely careful cutting the florentines into 1 1/2" squares. Then I melted some dark and white chocolate and used my squeeze bottle to drizzle the chocolate over the whole pan to create uniform lines on them. Once that was done, I plated a couple of them. Chef CJ took quite a few of them for a gathering that Chef Mattern is putting on this week. Quite a few of the things made this week were for that purpose.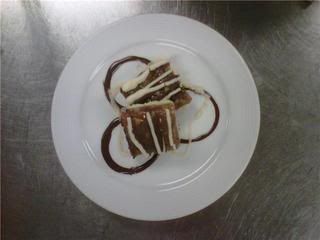 Once the flornetines were completed, it was time to bake off my madelines. Once those were in the oven, I was able to quickly whip up some hazelnut focus', and then spritz cookies. Both of those recipes were surprisingly simple.
After those were out of the way, I began to work on my truffles. I decided to make an outer coating of cocoa powder, coffee beans, and some powdered sugar to off set the bitterness of the cocoa and coffee. I only had time to dip one row of my truffles into melted chocolate before coating them in the dry coating. The rest were just tossed in the dry mixture. I tasted both variations, and I definitely see why it is good to coat them in the melted chocolate first. It gives it a hard shell and contrasts with the softness of the interior of the truffle. The others were still yummy, but the texture contrast wasn't there.
I had a massive quantity of product to bring home. I decided to box some of them up prettily to send to my sister for her birthday next week. Here is how that turned out: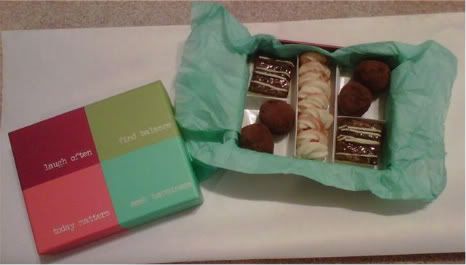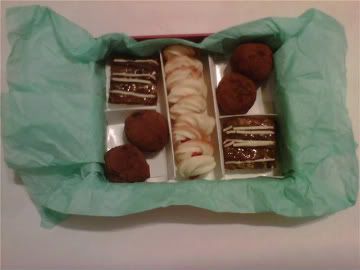 Next week in pastry, we are finishing up a couple of things on Monday and then we take the final on Tuesday. After the final, we all have to stick around to deep clean the kitchen. I cannot believe that this is week 10 already! Next week is finals and I will have made it through my first quarter of school! It is a relief to have made it through a quarter, but also a little sad. It is flying by, and although I know I have plenty of time left, I wish it would slow down a little.