Over the weekend, I had a brilliant idea. If you know me in real life, you know that I have a love of painting pottery. I have worked at paint your own pottery studios on and off since I was 20 years old, and have become quite good at it.
In the paint your own pottery business, we use little bottles filled with paint that have a metal tip on the end with a tiny hole that allows us to write, make small dots and lines, and pretty much any small detail with ease. I was thinking about the business of plating, and I had the wonderful idea of getting bottles like those and filling them with melted chocolate so that I could make intricate chocolate/sauce designs on my plates and food. I went to Michael's and found a set of two different sized bottles with four different tips. They worked wonderfully! I just placed chocolate chips and a small amount of cream into a bottle and swirled in it a cup of very hot water until the chocolate was melted. Then I shook the bottle until the chocolate and cream were mixed and voila! I had a way to make teeny, tiny designs!
Monday in Pastry we made our cheesecake, creme brulee, anglaise sauce, and lady fingers. A few of us finished up early, so we got to decorate another cake. At one point, earlier in the year, Chef had said that she would do a demonstration with fondant. I asked if she had that planned for a specific week, and she asked if we wanted her to go ahead and do the demonstration. After a mostly enthusiastic response, she broke out a tub of fondant, and showed us how to color it, roll it out, cover a cake, and add a border at the bottom of the cake. Then she showed us how to make gum paste roses. They were absolutely gorgeous!! They really looked like real roses. I iced my cake and then put it back in the refrigerator to finish with fondant on Tuesday since we were out of time for the day.
On Tuesday, it was only the male chef and me in our group. We cut and decorated our cheesecake and passed out samples. Before we cut the cheesecake, we put an apricot glaze on the top. This, apparently, is what they always do in real bakeries to make the top shiny and pretty. Then we placed a cut strawberry on the top of each slice of cheesecake and I used my writer bottles to make drizzle chocolate on the strawberry and then to make a small flower on each slice. We got many compliments on how pretty they looked and everyone who saw my bottles were jealous.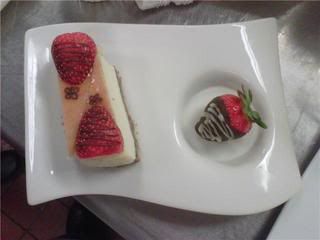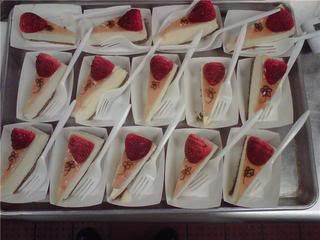 Next, we caramelized our creme brulee. I finally got to use my torch! I had never had creme brulee before, but after a little help from one of the other students who makes creme brulee at work all the time, I got enough sugar on the top, and a high enough flame to caramelize it properly. The creme brulee was surprisingly easy to make, and delightful to eat.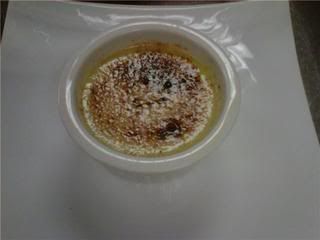 Next, we lined a mold with the lady fingers and trimmed them so they didn't stick up above the top. We prepared a bavarian cream and placed it in the mold. Next we layered diced strawberries on top of the cream, and topped off the mold with more cream. This is a modified Charlotte, as we used a different mold than the traditional Charlotte uses. We wrapped this with plastic wrap and placed it in the freezer for a buffet we are participating in a few weeks from now. I have no photos of this since they have not been unmolded yet.
After that, we prepared a lime chiffon and placed it in some tartlet pans lined with a baked, graham cracker crust. I did not photograph or eat these. I tasted the lime chiffon once prepared, but I am not a person who enjoys lime, so I chose to pass on this little adventure.
Once we finished all of those items, it was 10:45 am. We usually begin cleaning up at 11. I knew I wouldn't have time to finish decorating the cake I started the day before, so I asked if there was any way for me to take some fondant home to play with there. She gave me a recipe she had printed out, and let my group mate and I make some of our own fondant to take home with us.
That evening, I broke the fondant out and set up my daughters at their own little table covered in plastic wrap in the kitchen. I gave them each a little piece, their little plastic rolling pin from their kitchen set, and some cookie cutters and let them go to town. Harmony, my little artist at only 4 1/2 years old, created a layered item with her fondant. She alternated blue and white, and used a cookie cutter on one level to make a star.
Layla, my almost 2 year old, mostly squished hers around and took nibbles out of it.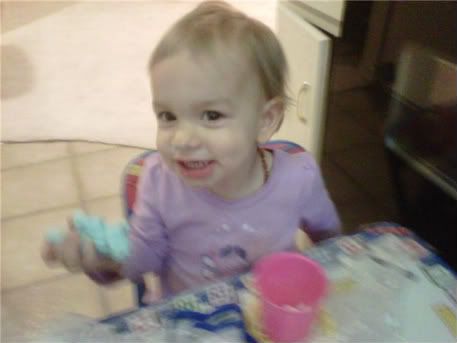 I covered my cake with white fondant, and created some larger blue flowers with smaller white flowers to go in the center with a small, round, blue center in the middle of the white flowers. I placed these in different sized bowls to dry so the edges would be curled up. I changed my mind about them, however, and the cake is still in the fridge waiting for me to make up my mind on how to finish it off. I'll show pictures of the eventually.
Next week we are creating tortes with extensive layers.