I know I've been sadly behind in Skills postings. I think the reason is that I have to do a journal for that class *Chef CJ counts my blog as my journal for Baking* and so I do that part and then don't feel like writing AGAIN about it here more candidly. I suppose I could just copy and paste the journal entries, but they are much more formal than I usually write in here. Better than nothing, though, huh? So for now, to catch up, I'm going to paste the journal entries and then go through and insert anything I feel is worth inserting.
Week 5-
Thursday, May 6, 2010
Objective: Braised collard greens, blanched green beans, steamed broccoli, tempura veggies, grilled veggies, and roasted butternut squash
Utensils used: Chef's knife, rubber spatula, slotted spoon, tongs, emulsion blender, deep fryer, steamer
Today I learned:
How to braise vegetables
How to make tempura batter and use the fryer
How to use the steamer
What braised collard greens taste like
Personal observations: Today was a veggie-riffic day. I was excited to try collard greens as I had never tasted them before. I was satisfied with how they turned out, but was told by Natane and Chef that the greens should cook a little longer. I put them back on and got caught up plating my squash and ended up burning it. I, personally, tasted some other students and I preferred how mine was originally. I didn't like it completely wilted, I preferred just a little bite to it.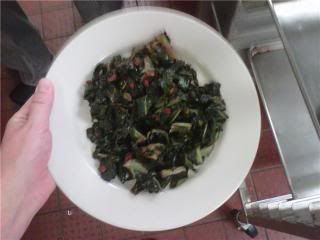 The blanched green beans and steamed broccoli were things that I had had before, but I did learn how to use the steamer, which was new for me. The tempura batter was easy to make, but it got soggy as soon as it began to cool after frying. The oil in our fryer was also disgusting which made it a little more unappetizing, as well. The grilled vegetables turned out well and I was happy to learn to oil/butter a little and then season them before grilling.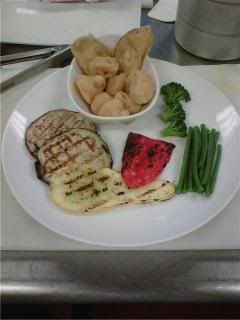 My favorite was the butternut squash. I mashed it with some butter and a little cinnamon and then pureed the remainder with a little cream, strained it to form a little sauce, and plated it as a heart with the sauce around it. Natane loved it and she doesn't usually like squash. Chef thought it tasted good, too.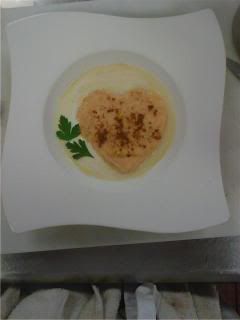 Friday, May 7, 2010
Objective: glazed beets, glazed carrots, cauliflower gratin, ratatouille, sautéed green beans, stir fried summer squash
Utensils used: Chef's knife, rubber spatula, slotted spoon, tongs
Today I learned:
When to add dry/fresh herbs when cooking
How to glaze beets and carrots
What the texture should be when glazing beets and carrots
How to prepare cauliflower gratin
What ratatouille is and tastes like *amazing!*
Practiced my knife cuts
Practiced béchamel sauce
Practiced flipping/tossing things in a sauté pan without utensil
Personal observations: The glazed beets and carrots turned out well. They had a nice caramelization on the outside and were tender on the inside. Chef an Curtis both like them. I ate almost all the carrots. I'm still not a fan of beets.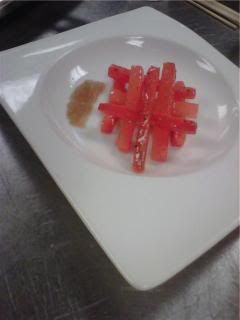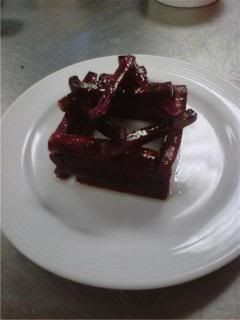 I learned to add dry herbs towards the beginning of cooking to extract the flavors but to add fresh at the end because it does not need as long to do the same thing. I absolutely LOVED the ratatouille. I got to practice knife cuts and learned a way that I like eggplant. I am excited to make ratatouille at home for Marc. Chef, Curtis, and Richard all enjoyed the ratatouille, as well. Chef also kind of laughed at me for my love of plating items creatively. I can't help it. I love it.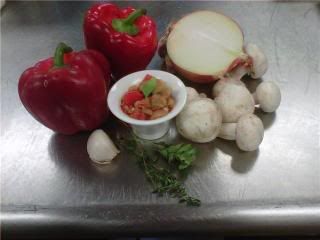 We finished the cauliflower gratin right at the end of class so I didn't have time to mess with the plating of it. I got a picture of what the dish itself looks like, though.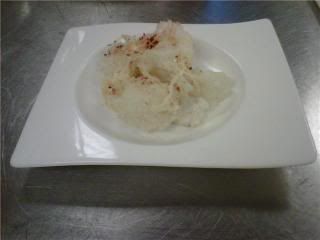 I got to practice flipping things in the sauté pan, which I am getting much better at. Over all, I would say it was a decent day, even though we, along with many other students, didn't have time to prepare the sautéed green beans or stir fried squash.
Week 6-
Thursday, May 13, 2010
Objective: Mashed Potatoes Duchesse,Tournee Pomme Anglaise, Croquettes, Au Gratin Potatoes, Pommes Lyonnaise, Baked Potatoes, Gnocchi
Utensils used: Chef's knife, rubber spatula, slotted spoon
Today I learned:
-The key to successful mashed potatoes is to make sure the potatoes are DRY
-You need to have stiff potatoes to pipe the croquettes and duchesse or they will just "plllllllbth"
-It takes some work to make sure your gnocchi will turn out right
Personal observations: There were SO many potato dishes going today. I wish I had realized that and gone through my recipes and made a list of what to do in what order- which recipes needed boiled/baked potatoes, etc. I think it would have made it easier to keep track of everything. Overall, we got everything done, but it was a little confusing at times.
The gnocchi ended up falling apart/being kind of gummy. Natane and I had split up some of the work, so I'm not exactly sure why that happened. I am going to practice at home at some point to get a feel for it. This is a picture of someone else's gnocchi.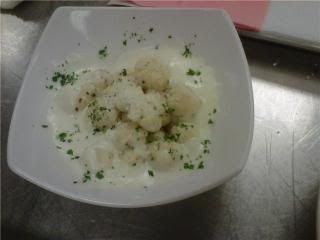 I was better at tournes today. Marc just ordered me a bird's beak knife that matches my kit, so I'm excited to get that and see how much easier it is.
The flavor of my duchess potatoes were really good. I didn't love them once they were baked, though. They were kind of dry and just...blah.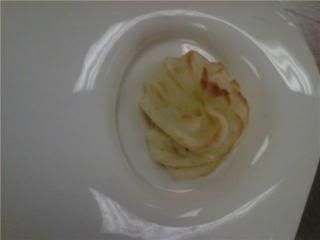 The croquettes, however, were delicious. I tasted someone elses and loved them. I loved the flavor of mine before they were fried, but I don't think I let them fry quiiiiite long enough. This, again, is a picture of someone else's.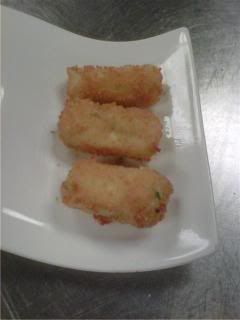 Friday, May 14, 2010
Objective: Rice pilaf, Risotto, steamed rice, died pasta, polenta, spaetzle
Utensils used: Chef's knife, rubber spatula, slotted spoon, whisk
Today I learned:
-Spaetzle can be made many, many different ways. There is not one "right" way to form the dough before cooking. Some rolled it, some cut it into strips.
-To brown rice, you need to have oil in the pan. Watch that it doesn't burn because it quickly goes from brown to burned.
-How to work the steamer
-What polenta is supposed to look and taste like
Personal observations: I learned that I do not like dark brown pilaf. I like it slightly browned, but don't like the flavor when it gets very dark. I am learning to trust my palette more. Chef has not had to tell me that I should add more salt/pepper lately. Natane and Curtis and Richard all liked my polenta and risotto. I didn't care too much for Curtis'. It was too "wine-y."
Left to right: pilaf, risotto, polenta, spaetzle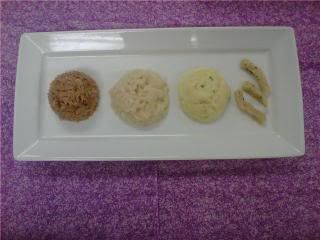 Week 7-
Thursday, May 20, 2010
Objective: truss chicken, fabricate chicken, roast chicken, vichy carrots, sautéed green beans, wild rice pilaf, stock *3 pots!*, sugar cookies
Utensils used: Chef's knife, rubber spatula, slotted spoon, filet knife
Today I learned:
-That when sautéing green beans, you need to cook them completely first in boiling water, shock them, and hold them until service. Return to boiling water to heat up BEFORE sautéing because just sautéing them will overcook them and make them shrivel up.
-The reason Chef puts crazy questions on the quizzes is to teach us things we normally would not learn this early and help it stick in our brains. Terragon is the seasoning in a béarnaise sauce.
-What an oblique cut is
-How to truss a chicken
-How to fabricate a chicken
-The ratio for wild rice pilaf
-Center of the plate presentation to help keep food hot. Build UP when plating. This picture was taken before I learned about that.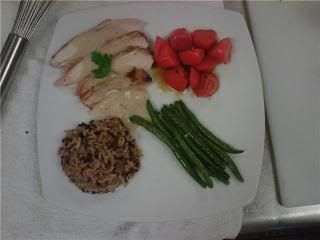 Personal observations: I usually hate touching raw chicken but I "manned" up today and did what needed to be done. I trussed a chicken, wearing rubber gloves, but then decided that it wasn't worth it and fabricated the chicken bare handed. It really wasn't that bad and I felt a great sense of accomplishment being able to do this without whining. I couldn't share this, though, because I knew people would probably not understand and make fun of me. Haha. I'm working on getting over my squeamishness of raw meat. It's more a sanitation thing for me. I think knowing we had the sanitation bucket and sink right there really helped me. I did turn my apron around before making cookies, though.
I, literally, dreamed about trussing a chicken after doing it yesterday. I just keep going over and over it in my head, I guess. It wasn't difficult and I got it on the first try. Sometimes I just think about all the things we learn SO much that they keep going when I get to sleep.
I am happy that I am getting more comfortable doing "real" cooking and not just baking. I definitely am feeling more in my element as time goes on.

Friday, May 21, 2010
Objective: Top sirloin, chicken chardonnay, tomato duxelle, broccoli hollandaise, mashed potatoes, pommes anna
Utensils used: Chef's knife, rubber spatula, slotted spoon, carving knife, tongs
Today I learned:
-Carving of a top round
-trussing of meat
-how to blanch/peel/seed a tomato
-potatoes for pommes anna need sliced very thin
-how to cryovac
Personal observations: I did not love the carving of the top round. It reminded me too much of my anatomy and physiology class *which I got a "D" in because I stopped going to labs because the cadavers made me too nauseous.* I just don't love the huge slabs of meat where you see all the muscles and can picture the live animal. I just...don't. I don't love the blood or the smell. On top of that, the smoker was going and that smell makes me nauseous, too. I did my best to pay attention, though. Once the steaks were cut, I had no problems handling the individual steaks and trussing them. Natane showed Curtis and I a way to loop the twine over that is easier than the way Chef Ridsdale showed us. She learned it at work.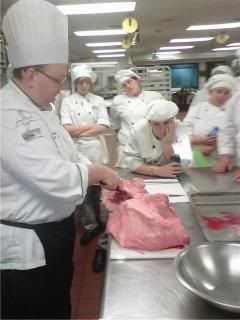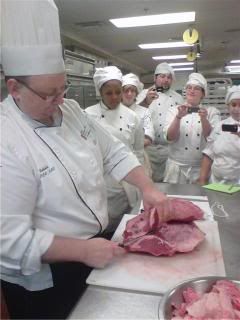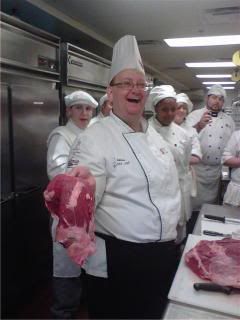 I loved the mixture for the tomato duxelle. I understand that it is dated to "Three's Company", but I still found it tasty. Maybe it can be updated.
I made the mashed potatoes, as well. I've been making these a lot at home, and everyone that tasted them loved their flavor. I really need to start bringing in my magic bullet blender to grind up black pepper daily because it's a pita to use Curtis' little handheld grinder to get enough pepper for a large quantity of food.
I learned that you need to sear the meat for color and flavor as well as to seal in the juices. You should season the meat prior to searing and the pan and oil has to be HOT before you put the meat into the pan to achieve the correct sear.
I also learned how to make a wine sauce at the end of class that was thick enough to stand on the plate. I learned the amount of sauce you need to put on a plate so the guest has enough to use with meat and potatoes, etc.
I know, I'm silly and like to make faces out of food. I know this presentation would never fly at an upscale restaurant.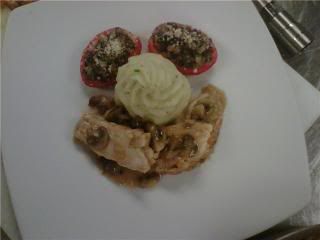 Chef Harris made the carrot flowers and I left off the hollandaise sauce from the broccolli. It was made earlier and had kind of congealed so it wouldn't pour, it just would splat. *shudders* When you aren't a huge fan of the sauce anyways, then it's congealed, you REALLY don't want to use it.